https://www.oskarcepan.sk/en/year/1
The Oskár Čepan Award 2019
Finalists: Jan Durina, Dávid Koronczi, Milan Mazúr, Erik Sikora (Winner of the Award), Gabriela Zigová (Visitors Choice)
08. 11. 2019 – 01. 03. 2020
East Slovak Gallery, Košice, Slovakia
Graphic Design & Architecture: Peter Liška
Production: Zlata Borůvková
Project Management: Lucia Gavulová – Director of Contemporary Art Foundation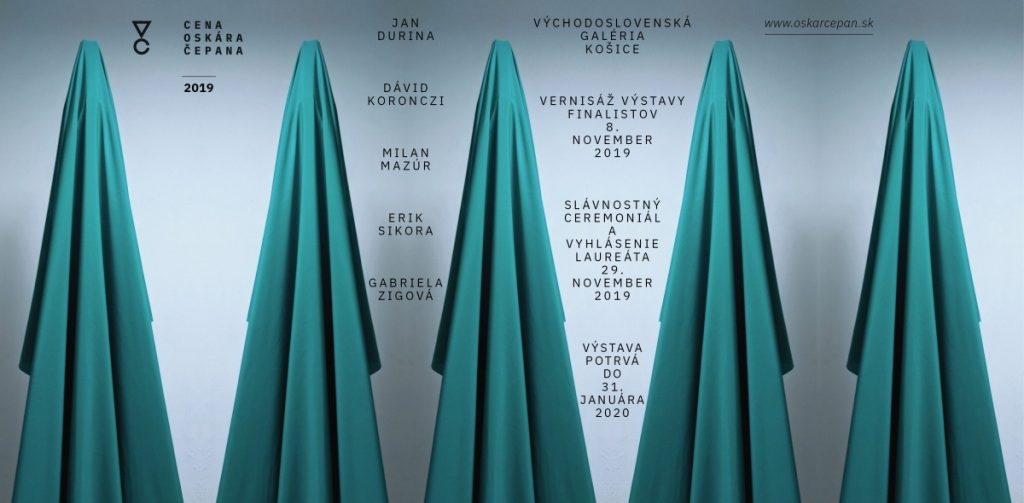 Ecology of Desire
Curated by Václav Janoščík
Photo: Tibor Czitó, Leontína Berková
The portrayal of society in BREATHE

In her performance and installation BREATHE, finalist of the Oskár Čepan Award 2019 Gabriela Zigová addresses current and pressing societal issues such as crowd psychology, overpopulation, climate change, and consumerism. With borrowed elements from a busy city life in London, where Zigová lives and works, she paints a sober and pessimistic picture of society's current state.

Gabriela Zigová's site-specific performance shows a crowd of young adults moving around in the gallery space, where she uses elements that remind of the inside of London's train carriages and commuting in a large city. The performers exude a tense energy with their angry or emotionless faces and quick steps, the atmosphere in the room becomes increasingly more aggressive as the performers get physically closer to the viewers. Zigová establishes a connection between performers and audience to create a participatory work of art that 'is perceived to channel art's symbolic capital towards constructive social change.' The audience becomes part of Zigová's work and, by being able to participate in her own experience and portrayal of a neo-liberal society, is urged to question how to apply change to work towards a more compassionate and inclusive society.

Between outbursts of negative emotions, the performers of BREATHE stand still and collectively take several deep breaths to suggest a moment of calm – only to be suddenly interrupted by a loud noise, and, once again, the crowd starts pacing through the room. In those moments of tranquility, the crowd breathes as one organism, and yet the viewer catches a glimpse of the individual being and its human need for introspection in the midst of a chaotic and anxiety filled space. Zigová draws inspiration from German artist Anne Imhof whose performances often evoke 'feelings of anxiety and helplessness, when [the performers] move off, [disappear] into the crowd and [leave the viewer] with a feeling of passing, shallow intimacy: a reflection of urban life's alienating anonymity, made up of glimpsed narratives'. Even though individuality seems to be completely erased in an anonymous crowd of commuters, Zigová still hints to the web of individuals this homogeneous mass is constituted of.

It is noticeable that the performers are all young, white and able-bodied. The artist alludes to the less diverse demographics in Slovakia, especially in comparison with much more diverse metropolises like London. Zigová's intention is to demonstrate certain dichotomies in crowds: even though they might appear different, crowds still behave in similar ways around the world and even though a crowd can consist of individuals with different backgrounds, questions of class, race or religion of the individual are erased. This notion, however, only scratches the surface of a wider problem – can the social identity of individuals be fully omitted within crowds, as a crowd is a group of people coming together in a certain context that is often dictated by the identity or status of an individual within society?

BREATHE addresses the responsibility members of a crowd carry for each other by mirroring the frustration of commuters on overcrowded trains and the moment where people who initially find themselves in the same social situation can easily turn against each other. To Zigová, crowd dynamics are a particularly emotionally charged phenomenon. She is attempting to show how members of a crowd depend on each other to keep a working system intact by controlling infectious emotions such as anger, stress and claustrophobia that can often accumulate into mass panic and transform a collaborating group of people to being a danger for each other.
The performers are all wearing a uniform of black hoodies designed by the artist to emphasise the disappearing of individuality in a homogeneous crowd. The hoodies also stand in as a metaphor for consumerism and overproduction, just like the single-use coffee cups that are placed on the floor of the gallery during the performance and in the installation. Especially in big cities, single-use products are regularly being carelessly left behind without thoughts of wastage, recycling and climate change, while the demand to satisfy every need as efficiently as possible – more often than not in unethical ways – rises in overpopulated hubs. With her performance, Zigová intends to 'rehumanise[…] a society rendered numb and fragmented by the repressive instrumentality of capitalist production.' She brings up the question of people's responsibility towards the environment and their responsibility towards each other within a society: just like single-use products, people are often treated as if they have single-use lives – the life of the individual becomes obsolete in a climate of efficiency and mass-production; and so Zigová reminds her audience to breathe.
Text: Johanna Trost for Oskár Čepan Award 2019