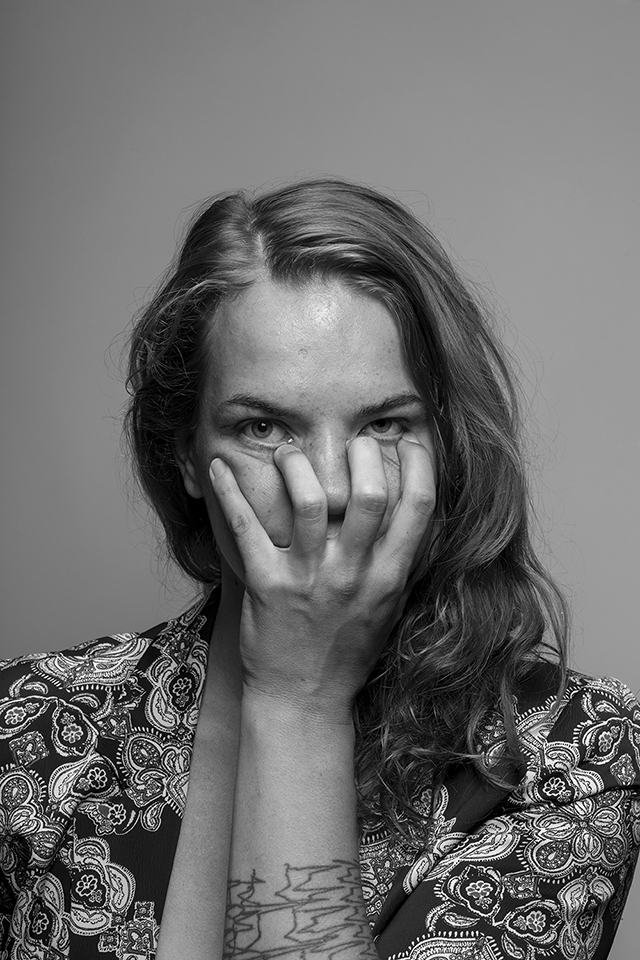 Gabriela Zigova (b:1989) is a Slovakian artist whose work focuses on the intersection of contemporary art and cultural and political events. By employing associative connections and symbolical, sometimes minimalist art gestures, she seeks to explore and expose particular social situations. Her mode of expression is either photography, performance, site-specific or interactive installation, or combination of all four, while the major content includes the manipulation of and confusion of viewers' senses. Zigova also works with movement and sound; she is interested in theater and other independent forms which involve the body as a medium. Her inspiration comes from daily news, media cases and people in her immediate surroundings.
Gabriela Zigova graduated from the Academy of Fine Arts and Design in Bratislava (SVK) in 2015, in the Open Studio of Ilona Nemeth. During her studies she won two scholarships; at the Faculty of Arts at Brno, University of Technology (CZ), and at the Academy of Fine Arts Vienna (AT). Zigova took part in exhibitions in Bratislava, Prague, Berlin, London, Budapest, Birmingham, Montreal and Quebec City.
In recent years she has curated several projects in Bratislava & London including an Interactive Media exhibition at Multiplace Festival or Performance Nights at A4-zero space, Czech and Slovak Stories Season at Deptford Cinema, 0/1 Exhibition at The Hive or Social Lube at The Workshop Vauxhall.
Currently is based in London (UK) where she joined The Steamship Collective in 2018. In 2019 she has been nominated for prestigious Oskár Čepan Award, where she won visitors' choice.
AWARDS, ARTIST RESIDENCES & FESTIVALS
2020 Artist In Residency, backsteinboot, Berlin Germany
2019 Oskár Čepan Award: Nominee, Winner of Visitors' Choice. Exhibition: Ecology of Desire, East Slovak Gallery, Košice Slovakia
2019 5th Festival of Naked Forms, Karlin Studios, Prague Czechia
2018 Transart Communication, Karlin Studios, Prague Czechia & Manga Centre, Krakow Poland
2018 Turmoil Excess_ Vorspiel, Transmediale & CTM, Modular+, Berlin Germany
2017 Cable Street Studios Arts Festival, London UK
2016 Rencontre Internationale d'Art Performance / RIAP, Quebec City Quebec
2016 V!VA Art For Action, Montreal Quebec
SELECTED SOLO EXHIBITIONS
2020 The New Times (Nové časy / Nový čas), Bohéma Gallery, Bratislava Slovakia
2019 The Best Seat Is Taken, A4 – zero space, Bratislava Slovakia
2018 CHe(a)r, Sumec Gallery, Bratislava Slovakia
2018 Dark But Happy Place, Deptford Does Art, London UK
2018 C-HOLE, Photoport Gallery, Bratislava Slovakia
2017 Ilona Németh / Gabriela Zigová, Gallery of Milan Alexander Bazovský, Trenčín Slovakia
2017 You Look Like I Could Use Another Drink, FUGA, Bratislava Slovakia
2015 2009 – 20??, Fresh Men's Gallery, Bratislava Slovakia
2015 *established model* Magdaléna Gallery 4D, Bratislava Slovakia
2015 [no censorship] A4 – zero space, Bratislava Slovakia
SELECTED GROUP EXHIBITIONS
2020 Attack / Decay / Sustain / Release, Nova Cvernovka, Bratislava Slovakia
2020 Timeless Thames, The Steamship PS, London UK
2019 A Room Of One's Own, Deptford Cinema, London UK
2019 Invisible City, The Steamship PS, London UK
2018 Social Lube, The Workshop Vauxhall, London UK
2018 G – Atlas, 4D Gallery, Galanta Slovakia
2016 Who Wants To Belong In My Country?, Article Gallery, Birmingham UK
2016 0 or 1, The Hive, London UK
2016 Maso Objekt, 4D Gallery, Galanta Slovakia
2015 Private Nationalism, Open Gallery, Bratislava Slovakia
2014 Czechoslovakia, Bunker Nitra Gallery, Nitra Slovakia
2014 Propaganda, Pisztory Palace, Bratislava Slovakia